Be Kind and True by Blackbird Designs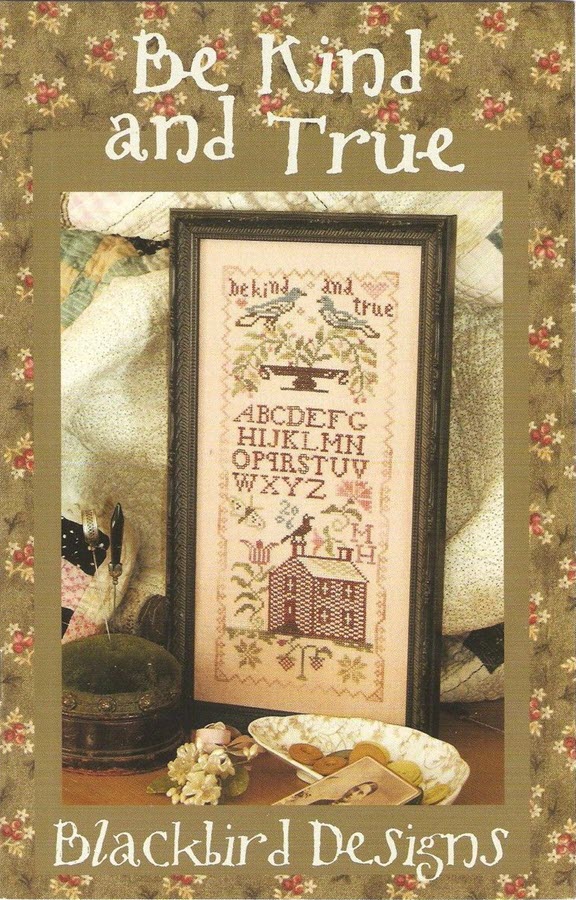 The suggested fabric is 35ct Marva's Blend by R & R Reproductions. NOTE: I used 28ct rose Monaco.
Recommended Floss
DMC 838
GAST Dried Thyme (DMC 937)
GAST Strawbonnet (DMC 3865)
WDW Caper (DMC 3021) – DMC 3021 almost identical to WDW Caper.
GAST Antique Rose (DMC 223) – Antique Rose is more of a rose color than DMC 223 which seems more mauve colored to me.
WDW Crimson (DMC 3802) – The DMC floss is a slight bit lighter in color but hardly noticeable.
GAST Woodrose (DMC 950 & 3064)
WDW Cherub (DMC 3774) – very good match
GAST Chamomile (DMC 372)
GAST Briar Rose (DMC 3726)
WDW Teal Frost (DMC 807) – The DMC is lighter and brighter than Teal Frost.
Design Size: 73w x 180h
14/28ct measures 5 ¼ x 12 7/8 plus 4" all around = 13 ½ x 21 ½
16/32ct measures 4 5/8 x 11 ¼ plus 4" all around = 13 x 20
18/36ct measures 4 x 10 plus 4" all around = 12 1/2 x 18 ½