Casting a Spell by Blackbird Designs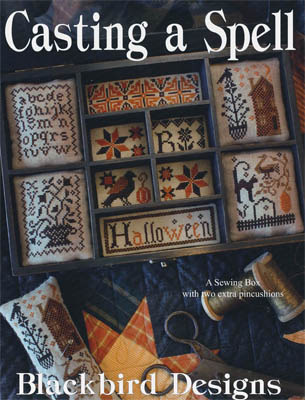 Casting a Spell by Blackbird Designs include the charts and instructions for creating a sewing box with two extra pincushions. The model was stitched on 30 Ct. Confederate Gray by Weeks Dye Works using Gentle Art Sampler threads (Dark Chocolate, Espresso Bean, Pumpkin Pie, Tarnished Gold). The DMC equivalents are (839, 3371, 3826, 829).
You can stitch all the little pieces and stuff them for tiny cushions OR get the Wood Shadow Box with Glass Top and paint it or stain it.
The box used in this project is Wood Shadow Box with Glass Top Item No: 648196 from Hobby Lobby. The price when I ordered it was $7.99.
While I love the various designs, I did not relish the idea of making little pillows or fitting them into the box. Carla Coburn recently shared her idea for stitching the project as a sampler on the Fans of Blackbird Designs Facebook Group.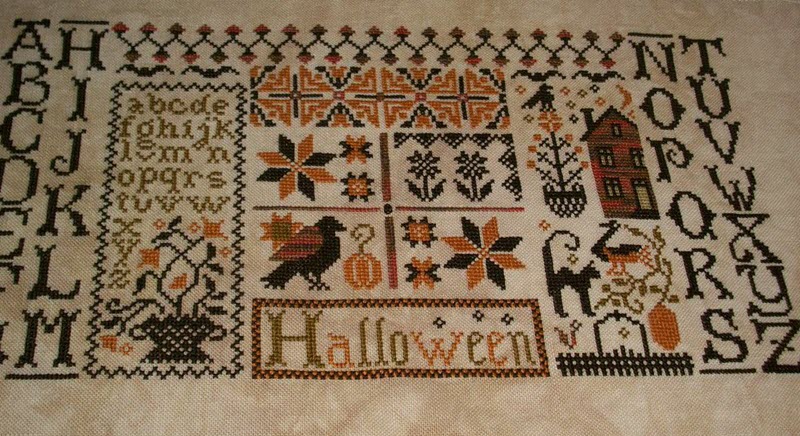 She chose to stitch her piece on Picture This Plus 32ct Legacy. She also changed the house to use DMC variations 4135 (Terra Cotta ) rather than the called for threads. GAST Adobe is almost the identical colors of the DMC Variations 4135 and may be easier to find. 12 x 16 is the size of the linen, the design size is, 6 1/2"h x 12 3/4"w. You will need to adjust your sizes depending on the count of the fabric you choose to use. She also used 4135 (DMC Variations) on the wing of the larger crow in the middle, the house, the round part of the very top border and some of the triangles, by the section with the moon.
I've already ordered the chart Casting a Spell from my favorite online store.
Changes/Additions
Rather than stitch the Alphabet Block, it was changed to two flowers. The top Band Border was taken from Midnight Watch. The two bats are also from Midnight Watch above the Cat.
Sampler Layout
The various parts of the sampler are laid out on graph paper with stitch counts. If you click on the thumbnail, you will see a full size image which you can print and tape together.
Design Size: 219W x 117h
16/32ct 13 3/4 x 7 3/8 + 4" each side = 22x16
14/28 ct 15 5/8 x 8/38 + 4" on each side = 24x17