Christmas Garden by Blackbird Designs
Christmas Garden is another popular OOP chart by the Blackbird Design ladies. There are three projects included in this multi page booklet. This project also appears in the newly released Christmas book, Home for the Holidays.
The alphabet, included on one of the finished pictures below, is NOT included in either book. It was charted by Cheryl Anderson. It can be found in the files section of the Facebook group, Christmas Garden SAL. I have included some notes on using the alphabet at the bottom of this page.
Christmas Garden Alphabet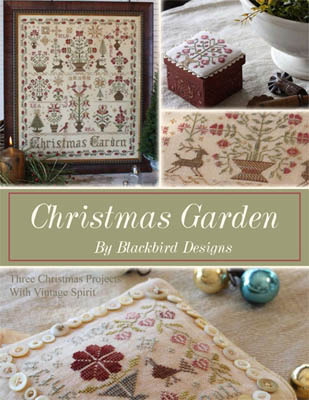 Join us for the Christmas Garden SAL!!
Christmas Garden Sampler
All of the information on stitching the sampler is for stitching it as pictured above. There are additional presentations for stitching this. If you decide to use one of those, you will require additional floss.
Design Size: 225w x 272h
Recommended Fabric: 30ct Sheep Straw by R & R Reproductions
14/28ct: 16 1/8 x 19 3/8 plus 4 inches all sides = 24 1/8 x 28 3/8
16/32ct: 14 1/8 x 17 plus 4 inches all sides = 22 1/8 x 25
18/36ct: 12 1/2 x 15 1/8 plus 4 inches all sides = 21 1/2 x 23 1/8
Recommended Floss: CC = Crescent Colors and GA = Gentle Arts
CC Calico Kitty 25 yards (DMC 3722/3859)
CC Fool's Gold 15 yards (DMC 3045/613)
GA Endive 25 yards (DMC 3011/3012)
GA Heirloom Gold - 15 yards (DMC 610)
Specialty Stitches: None
Alternate presentations of the Christmas Sampler.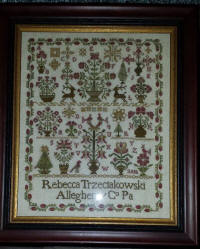 Christmas Garden with Name and location
Stitched by Becky Trzeciakowski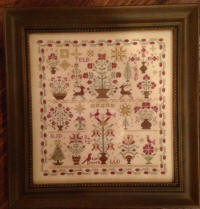 Christmas Garden Plain
Stitched by Lisa Lyons Duffin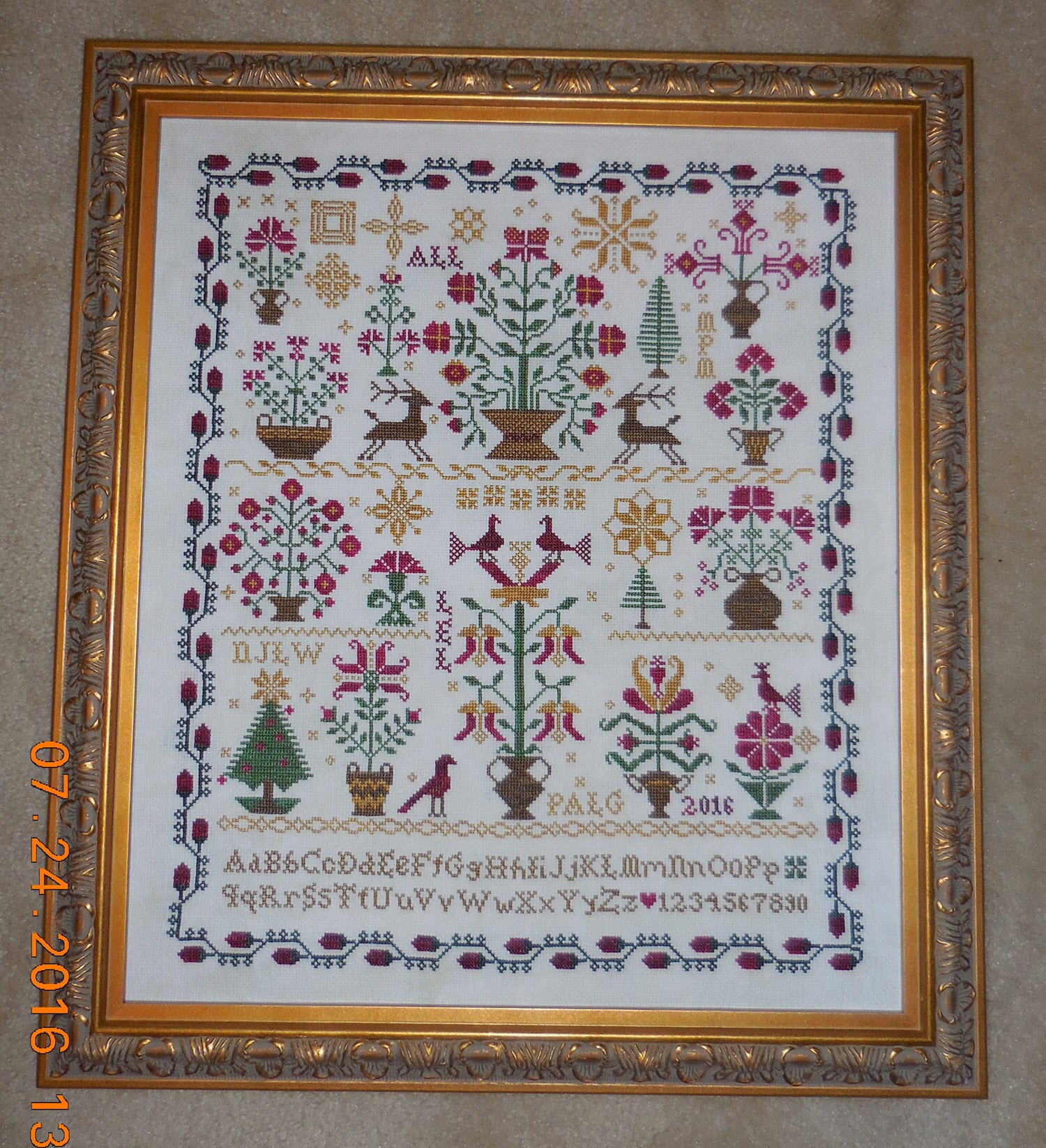 Christmas Garden with Alphabet
Stitched by Katrina
Replacing Christmas Garden with Alphabet/Numbers
The alphabet (uppercase and lowercase plus the numbers), as charted by Cheryl Anderson. fits in the space allotted for the words Christmas Garden. Please note that the alphabet includes only the Uppercase K and L to allow for the heart and holly.
Stitch Count for allotted space: 201wx 31h
Stitch Count for alphabet/numbers: 190w x 21h (I added four rows between the two lines of stitching rather than the three that are charted.
Spacing: I left five rows at the top and bottom and 5 rows at one end and 6 at the other.