Evening Shades the Garden
Evening Shades the Garden is another OOP chart by Blackbird Designs. The picture gives an alternate look to the suggested fabric for this design. This chart is NOT part of the lending library as I do not own it. I borrowed a chart to stitch this beauty.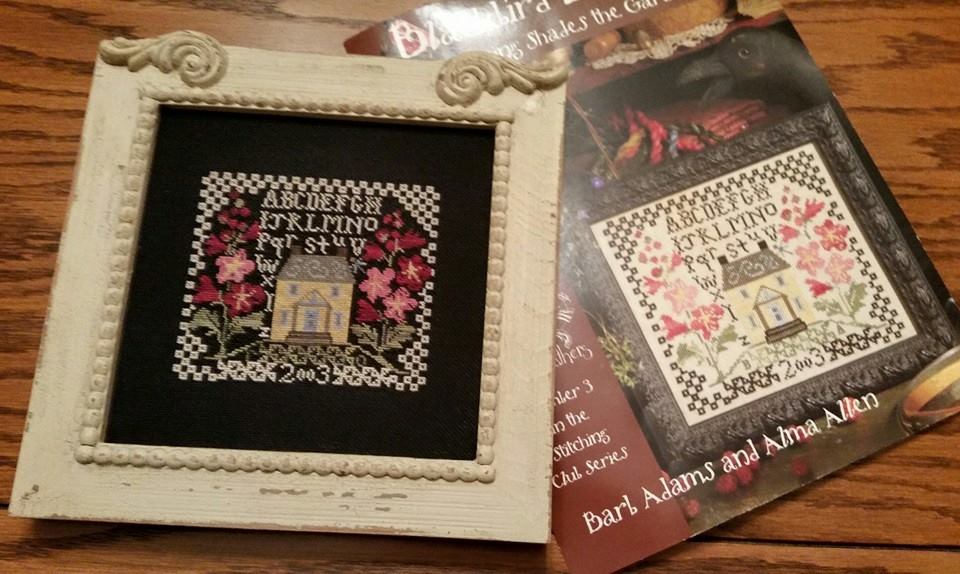 The suggested fabric is 28 or 30ct Foglifter by R & R Reproductions. However, Rita Ogden choose to stitch it on 32ct black over one.
Design Size: 105W x 93H
Recommended Fabric: 28 or 30ct Foglifter by R & R Reproductions
14/28ct - 7 1/2 x 6 5/8 plus 4 inches all sides = 15 1/2 x 14 5/8
16/32ct - 6 5/8 x 5 7/8 plus 4 inches all sides = 14 5/8 x 13 7/8
18/36ct - 5 7/8 x 5 1/8 plus 4 inches all sides = 13 7/8 x 13 1/8
Recommended Floss: Gentle Arts Sampler Threads (GAST) and DMC
GAST Old Blue Paint
GAST Pink Azalea
DMC 310
DMC844
GAST Brandy
GAST Dried Thyme
GAST Raspberry Parfait
Specialty Stitches: Initials are stitched over 1