For the Birds series by Blackbird Designs Stitch-A-Long
For the Birds is the newest in the Loose Feathers Series for 2017 offered by the Blackbird Design ladies, Barb Adams and Alma Allen. The first in the series of nine is called It's Spring Fever. They will be releasing one a month for the next nine months. Each chart will be 91w x 91h and will be stitched in various colors of linen. As the information becomes available, I will add it. If you are wanting to stitch this series as all one piece, scroll down to see the one Carla Coburn is stitching on one piece of 32ct PTP Legacy linen. For the most part, she is using the DMC colors.
Corrections to All the Hills Echoed
BBD For the Birds series SAL - Facebook Group
Stitch Count: 91h 91w
Design Size:
14/28ct - 6 1/2 x 6 1/2
16/32ct - 5 3/4 x 5 3/4
18/36ct - 5 x 5
If you are stitching these as individual pieces make sure and add 3 inches to each side for the framing. If you plan to stitch these on all one piece, use the design size and the layout you select to figure your fabric need.
It's Spring Fever
Recommended Fabric: 36ct Wren by Picture This Plus
Recommended Threads: Weeks Dye Works
Beige (DMC 739)
Blue Jeans (DMC 931)
Caper (DMC 935)
Cocoa (DMC 869)
Confederate Gray (DMC 647)
Deep Sea (DMC 930)
Dirt Road (DMC 420)
Flat Fish (DMC 3790)
Jay Bird (DMC 932)
Loden (DMC 830)
Pamlico (DMC 645)
Sandcastle (DMC 422)
Schneckley (DMC 831)
Terrapin (DMC 535)
WDW Charcoal (DMC 844)
WDW Fathom (DMC 939)
WDW Pelican Gray (DMC ??)
WDW Taupe (DMC 3023)
The Light Upon the Lawn
Recommended Fabric: 36ct Ale by Picture This Plus
Recommended Threads: Weeks Dye Works (same as above)
She Sights a Bird
Recommended Fabric: 36ct Oaken by Picture This Plus
Recommended Threads: Weeks Dye Works (same as above)
All the Hills Echoed
Recommended Fabric: 36ct Oaken by Picture This Plus
Recommended Threads: Weeks Dye Works (same as above)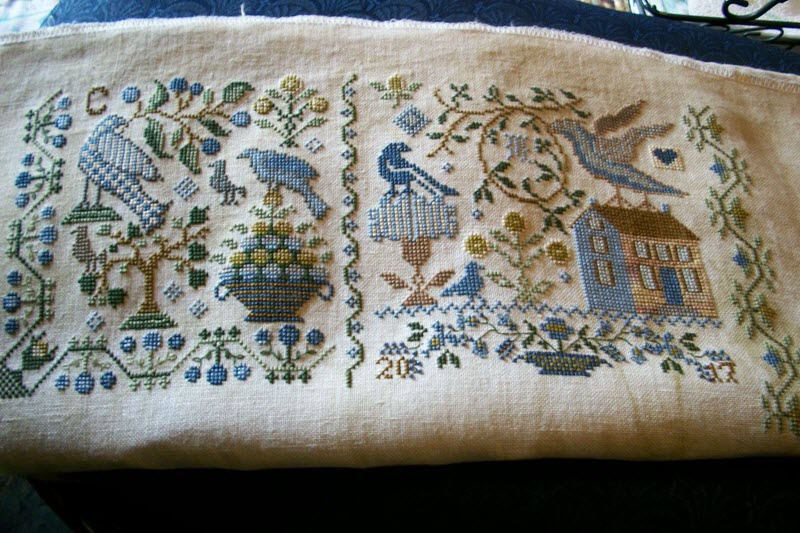 Photo Courtesy of Carla Coburn