Liberty Rose by Blackbird Designs
Liberty Rose is dated 2015 and was offered as a class project by Old Mill Stitchery. The piece is meant to be stitched on two different fabrics then stitched together. You can also stitch it as one piece which is what I will do.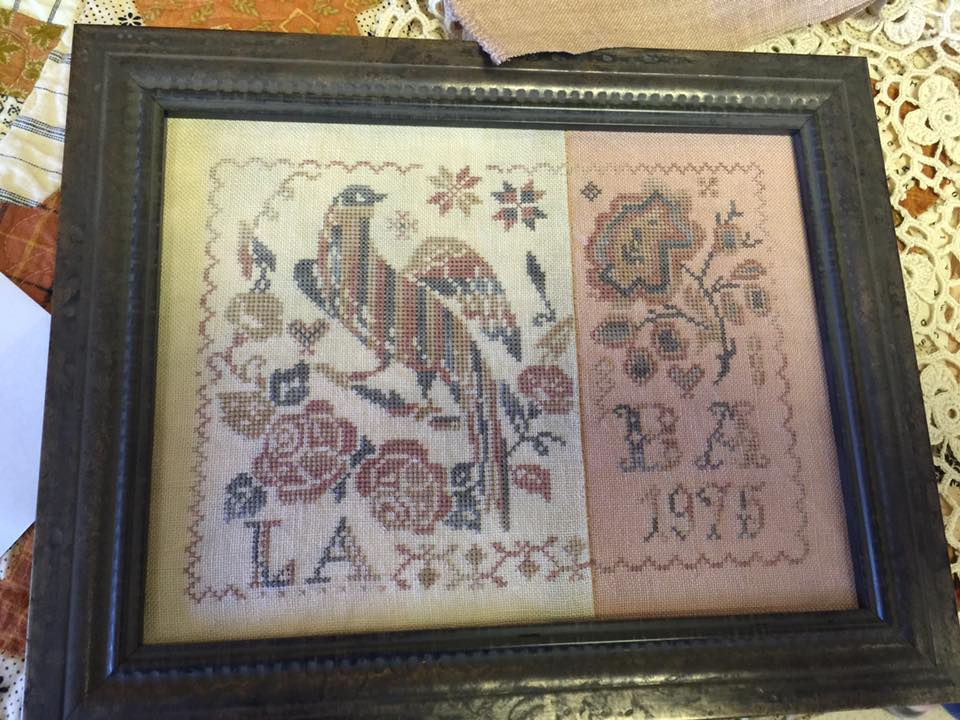 Stitch Count Left Side: 82w x 96h
Recommended Fabric: 32ct Vintage Lentil by Lakeside Linens. Approximate DMC Equivalent: 644
14/28ct - 5 7/8 x 6 7/8 design size only
16/32ct - 5 1/8 x 6 design size only
18/36ct - 4 1/2 x 5 3/8 design size only
Recommended Floss: Weeks Dye Works Design is stitched one over two threads. If you are used 2 over 2 you will need additional floss.
Graphite (DMC 414)
Oak (DMC 3863)
Pink Sand (DMC 3772)
Stitch Count Right Side: 49w x 96h
Recommended Fabric: 32ct Vintage Examplar by Lakeside Linens Approximate DMC Equivalent: 437/Variegated
14/28ct - 3 1/2 x 6 7/8 design size only
16/32ct - 3 1/8 x 6 design size only
18/36ct -2 3/4 x 5 3/8 design size only
Recommended Floss: Weeks Dye Works
Graphite (DMC 414) close math
Oak (DMC 3863) oak is a variegated tan/ivory color while 3863 is more a rose color
Pink Sand (DMC 3772) pink sand is variegated and more a blend of 3863/3772
Stitch Count stitched as one piece: 131w x 96h
14/28ct - 9 3/8 x 6 7/8 plus 3 inches all sides = 15 3/8 x 12 7/8
16/32ct - 8 1/4 x 6 plus 3 inches all sides =14 1/4 x 12
18/32ct - 7 1/4 x 5 3/8 plus 3 inches all sides = 13 1/4 x 11 3/8
Specialty Stitches: None