Never Far Apart by Blackbird Designs
Never Far Apart was released as a limited edition tin from Blackbird Designs and included everything needed to make this adorable 4 x 8 mini-stocking celebrating friendship. It is stitched on 32ct hand-dyed linen with The sampler design features two houses connected with a friendship pathway. This is a complete LIMITED EDITION kit which includes the chart, linen, stocking lining fabric and hand-dyed flosses. Comes packed in a little round tin.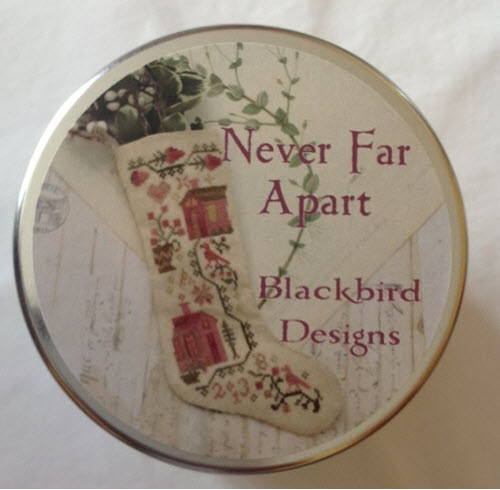 Stitch Count: 57w x119h
Recommended Fabric: 32ct Just Between Friends by R & R Reproductions
14/28ct - 4 1/8 x 8 1/2 plus 2 inches all sides = 8 1/8 x 12 1/2
16/32ct - 3 5/8 x 7 1/2 plus 2 inches all sides = 7 5/8 x 11 1/2
18/32ct - 3 1/8 x 6 5/8 plus 2 inches all sides = 7 1/8 x 10 5/8
Recommended Floss: Gentle Arts Sampler Threads
Chives
Old Brick
Woodrose
Endive
Apple Cider
Brandy
Raspberry Parfait
PATTERN CORRECTION: The symbols for Raspberry Parfait and Apple Cider were transposed. You can tell from the picture above the roof and baskets are done with the Apple Cider....not Raspberry Parfait.
Specialty Stitches: Four sided stitch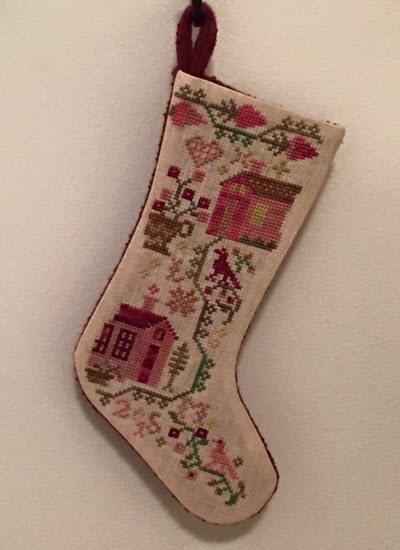 Never Far Apart finished as a stocking. Stitched by Martha Deitz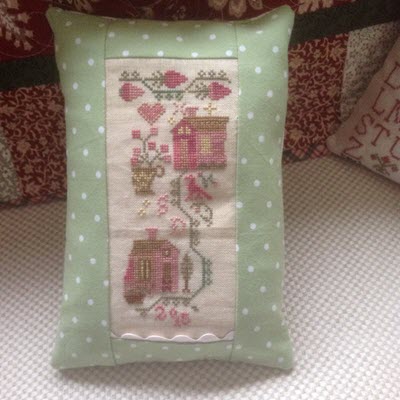 Never Far Apart finished as a sampler pillos Stitched by Stacy Hendon Diokno‎