Thank You, Sarah Tobias by Blackbird Designs
There are seven projects in the Thank You, Sarah Tobias book inspired by an antique Pennsylvania Dutch sampler. They include the following:
Pins & Tulips Pincushion
Sarah's ABC Pincushion
Sarah Tobias Sampler
Blooms for Sarah
Morning of Life Sampler
For My Daughter
Sarah's Needlecase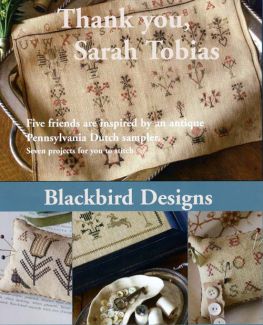 Sarah's Needlecase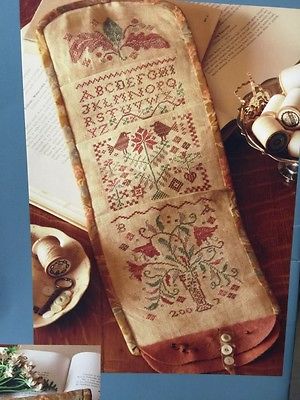 There are four separate designs that make up this piece. They can be stitched separately and framed, stitched as a needlecase, or as a sampler. Instructions are included for creating the needlecase. My intention is to stitch it as one piece and to make a wall hanging/bellpull out of it.
Stitch Count:
Flower Vase 77w x 101h
Birds 75w x 64h
Alphabet 75w x 43h
Leaves 73w x 46h
Recommended Fabric: 30ct Expresso by R & R Reproductions A 54' x 7" piece will do all four pieces stitched as the needlecase.
Recommended Floss: Crescent Colors
Tennessee Red Clay 14yds
Poblano Pepper 9 yds
Little Brown House 10yds
Joshua Tree 5 yds
Morning of Life
Stitch Count: 144w x 192h
Recommended Fabric: 30ct Apple Brown Bindy by R & R Reproductions
Recommended Floss: Gentle Arts (GA) and Weeks Dye Works (WDW)
GA Raven 10yds (DMC 310)
WDW Palomino 10 yds (DMC 610)
GA Old Hickory (DMC 642)
WDW Sage 10 yds (DMC 370)