Sunflower House by Blackbird Designs
Sunflower House is another of the much sought after OOP charts by Blackbird Designs. It usually goes for a high price on eBay.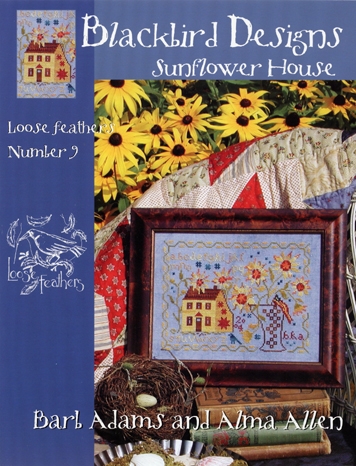 Recommended Floss:
GAST Mulberry
GAST Butternut Squash
GAST Sarsaparilla
GAST Grecian Gold
GAST Brandy (10 yd skein)
GAST Deep Sea
GAST Burnt Orange
Fabric:
Recommended fabric is 28ct Friendship Blue by R & R Reproductions
NOTE: I stitched it on 28ct blue Monaco and another stitcher used Millennium Blue linen 32 count fabric by Zweigart.
Stitch Count: 128w x 93h
14/28ct - 9 1/8 x 6 5/8 + 4" all around = 17½ x 15
16/32ct - 8 x 5 7/8 + 4" all around = 16½ x 14½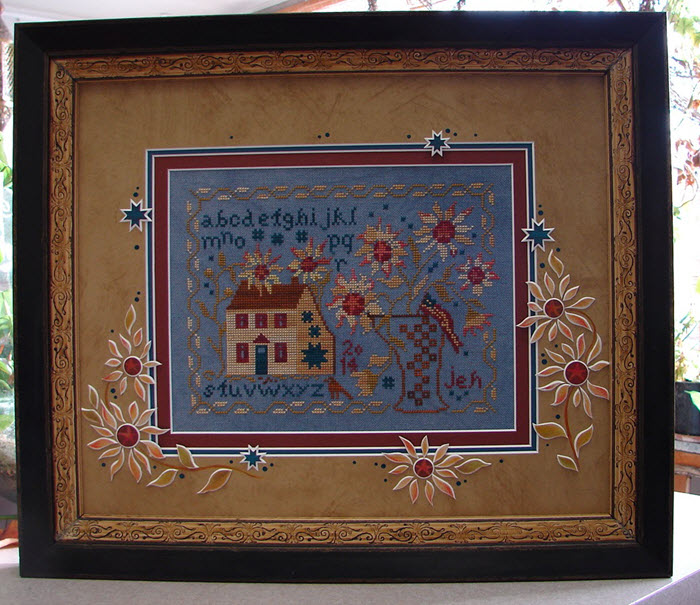 Stitched by Julie Hotz and framed by Rensel Studios.