'Tis the Season from Joyeux Noel
One of the most beautiful designs the Blackbird Design ladies have created is 'Tis the Season which is from the book Joyeux Noel. The book is due to be reprinted and released during December 2015. It should be available at you LNS or an online shop.
There are a number of us who are going to be stitching this piece as part of the 'Tis the Season SAL Facebook group. Please come join us.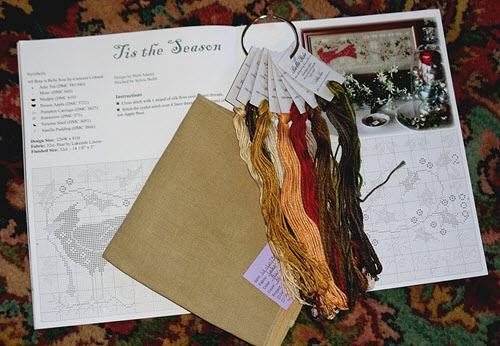 Picture From: Blacksheep's bit of the Web
Recommended Fabric: 32ct Pear by Lakeside Linens (pictured above)
Recommended Floss: Belle Soie silks by Crescent Colours (pictured above)
Attic Tea (DMC 581/580)
Moss (DMC 645)
Mudpie (DMC 610)
Poison Apple (DMC 3721)
Pumpkin Carriage (DMC 3827)
Scarerow (DMC 371)
Tortosie Shell (DMC 3051)
Vanilla Pudding (DMC 3866)
I have no idea how close the DMC equivalents match the silk colors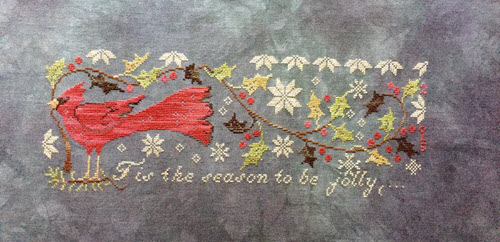 Stitched by Anka Julia on Haunted by Picture This Plus.
The cost of the silk floss was a consideration for me, so I went in search of colors I could substitute. I came across this blog post Blogtoberfest… Okay, I'm terrible at this! She suggested using the following conversion from Crescent Colors Belle Soie silk and I decided to give it a try.
Attic Tea -> CC Pea Pod
Moss -> WDW Bark
Mudpie -> WDW Palomino
Poison Apple -> CC Wild Berries
Pumpkin Carriage -> GAST Brandy
Scarecrow -> GAST Grecian Gold
Tortoise Shell -> GAST Forest Glade
Vanilla Pudding -> WDW Whitewash
Both color suggestions for the bird seemed to me more shades of pink while my cardinals are RED so I decided to change and use Week Dye Works Turkish Red.
Design Size: 226w x 81h
14/28ct - 16 1/8 x 5 3/4 plus 4" all sides = 24 1/8 x 14 3/4
16/32ct - 14 1/8 x 5 1/8 plus 4" all sides = 22 1/8 x 13 1/8
18/36ct - 12 1/2 x 4 1/2 plus 4" all sides = 21 x 13
The verse at the bottom can be stitched in French or English, both are included with the chart. I am probably going to change the jolly to joyous in the English version as pictured here.
'Tis the Season SAL Facebook group Please come join us.