Willow House by Blackbird Designs
Willow House was released in 2003 and is now Out of Print.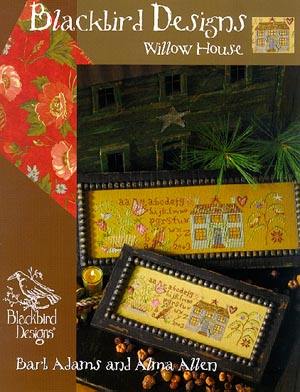 Stitch Count: 195w x 55h
Recommended Fabric: 28ct Tobacco Cashel linen by R & R Reproductions OR 40ct Gold Finch by R & R Reproductions
14/28ct - 13 7/8 x 3 7/8 plus 4" all sides = 22 1/2 x 12 1/2
16/32ct - 12 1/4 x 3 1/2plus 4" all sides = 20 1/2 x 12
40ct over 2 - 9 3/4 x 2 3/4 plus 4" all side = 18 x 11
Recommended Threads: Weeks Dye Works (No DMC equivalents included)
WDW Teal Frost
WDW Scuppernong
WDW Moss
WDW Hazelnut
WDW Brick
WDW Confederate Grey
WDW Pecan
WDW Cinnabar
WDW Dove
WDW Straw
WDW Iris
WDW Sand
WDW Romance
Specialty Stitches: Smyrna Crosses, Lazy Daisy Stitch, Eyelet Stitches
The photo below shows a different look for stitching Willow House. Annette Hannah used 40ct Sandstone. I personally like it better on the lighter count fabric. She did make some color changes with floss.