With Needle and Thread by Blackbird Designs
This Blackbird Designs cross stitch book is chock full of projects – there are eleven in all! Designs include everything from the alphabet to birds to floral motifs. Projects range from pillows to wall hangings to sewing boxes! The book includes charts and instructions for all 11 projects and is 48 pages. The book finishes with a conversion chart and source list. And, of course, the book is now Out of Print and much sought after.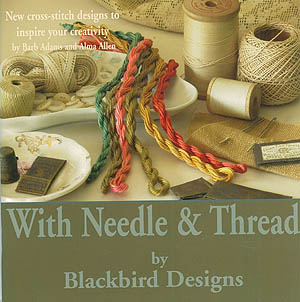 Designs Include: Small Sampler Pillow, Be Thou the Rainbow, Bluebird's Needles & Pins, Victorian Pins & Needles, Tulip & Stars Pinkeep, Simple Harvest, Friendship's Sheltering Vine, Tis Halloween, My Quaker House, Let Heaven & Nature Sing, and Pink House.
My Quaker House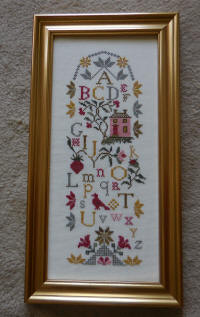 Design Size:73w x 199h
Recommended Fabric: 40 ct French Vanilla by R&R
14/28ct - 5 1/4 x 14 1/4 plus 4 inches all sides = 13 1/4 x 22 1/4
16/32ct - 4 5/8 x 12 1/2 plus 4 inches all sides = 12 5/8 x 20 1/2
18/36ct - 4 x 11 plus 4 inches all sides = 12 x 19
Recommended Floss: Weeks Dye Works and Olde Willow Stitchery
WDW Aztec Red
OWS Weeping Willow (this is no longer available)
WDW Palomino
WDW Schneckley
WDW Curry
WDW Hibiscus
WDW Confederate Gray
Specialty Stitches: Smyrna Cross
Let Heaven and Nature Sing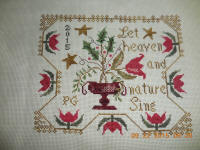 Design Size: 122w x 101h
Recommended Fabric: 32ct Light Examplar-Vintage Lakeside Linen
14/28ct - 8 3/4 x 7 1/4 plus 4 inches all sides = 16 3/4 x 15 1/4
16/32ct - 7 5/8 x 6 3/8 plus 4 inches all sides = 15 5/8 x 14 3/8
18/36ct - 6 3/4 x 5 5/8 plus 4 inches all sides = 14 3/4 x 13 5/8
Recommended Floss: Weeks Dye Works (WDW) Gentle Arts (GA) and Olde Willow Stitchery
WDW Aztec Red
WDW Baby's Breath
OWS Weeping Willow (this is no longer available)
WDW Indian Summer
WDW Sage
GA Baby Spinach
WDW Rum Raisin
WDW Schneckley
Specialty Stitches: Smyrna Cross and Satin Stitch
My Pink House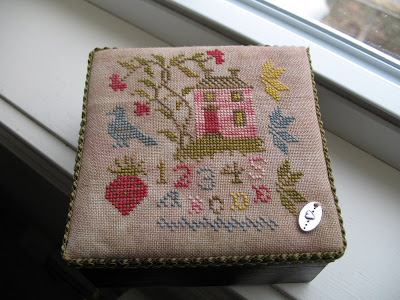 Design Size: 64w x 61h
Recommended Fabric: 32ct Daily Grind by R & Reproductions
14/28ct - 4 5/8 x 4 3/8 plus 4 inches all sides = 12 5/8 x 12 3/8
16/32ct - 4 x 3 7/8 plus 4 inches all sides = 12 x 11 7/8
18/36ct - 3 1/2 x 3 3/8 plus 4 inches all sides = 11 1/2 x 11 3/8
Recommended Floss: Weeks Dye Works
Aztec Red
Dolphin
Curry
Hibiscus
Palomino
Olive