Counted Cross-Stitch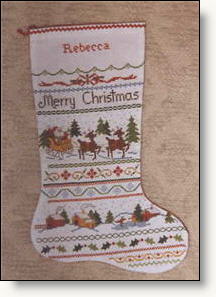 Counted cross-stitch is one of the oldest of embroidery stitches. I started with it in 1982 when I made a cross stitch Christmas stocking for a new granddaughter from a kit - pictured on the left. I had done crewel embroidery years before but this was different - I was hooked. I introduced my Mom to the art form and we were in heaven. My Christmas tree is totally decorated with ornaments made by the two of us. I prefer not using kits now-a-days. I choose my fabric and cut it four inches larger on all sides to allow plenty of room for stretching and framing. For the most part, I use DMC floss and have all 300 plus colors. I have used specialty floss on only two occasions - the Owl and Woodland Life picture where I used Anchor/Bates floss and one of the Eva Rosenstand pillows where I used her floss.
One of the most common forms of cross stitch is the sampler. The word is derived from the Old French world 'essamplaire' meaning a pattern which could be copied. I have worked many samplers over the years both for our home and as gifts.
Threads of History by Jo Verso gives some more info on the history of counted cross stitch.
Birds Counted Cross Stitch
The Crossed Wing Collection specializes in realistic and finely-detailed cross stitch patterns of birds and is another of my favorites. Paula and Dan Minkebige have some of the most beautiful designs I have ever stitched. Jean McIntosh Designs has a magnificent Blue Jay and Cardinal that I stitched as companion pieces.
Samplers Counted Cross Stitch
Cross Stitch Samplers are one of my favorite pieces to work on. They make wonderful gifts for weddings and births. The Samplers page shows just a few of the many I have done as gifts or that hang on the walls of our home. The pictures in no way do justice to the finished pieces.
Misc Projects in Counted Cross Stitch
I like working on large detailed projects. I normally use only DMC floss and if the project calls for lots of 1/4 or 1/2 stitches, I use a 28 or 32 ct fabric over 2 threads. My miscellaneous projects include Christmas stockings for my grandchildren, Owl & Woodland Wildlife from Anchor Premier Collection, and many others.
Linda Myers' Art of Cross Stitch has some beautiful designs based on her watercolor paintings. Two I have done are
Rubies and Lace
and
Autumn at Sinking Creek
.
Fulmer Crafts, National Park Collection has some beautiful very detailed patterns. Most of these are not for the beginning stitcher. The South Rim of the Grand Canyon is truly beautiful.