Counted Cross Stitch Sampler - A Fisherman's Sampler
This Fisherman's Sampler is from Fields and Streams Vol III by R. W. Brownlee. The verse at the top of the sampler reads -
A Three - Pound Pull and a Five Pound Bite,
An Eight - Pound Jump and a Ten - Pound Fight,
A Twelve - Pound Bend to Your Pole - But Alas!
When you get him aboard He's a half Pound Bass.
The design was stitched on 14 count Fiddler's Lite Aida. Unfortunately I only took the picture before the project was framed and I did not measure the finished size. The design area on 14 count measures 7 1/2" x 13". To that you add the mat and frame. This leaflet may also be out of print.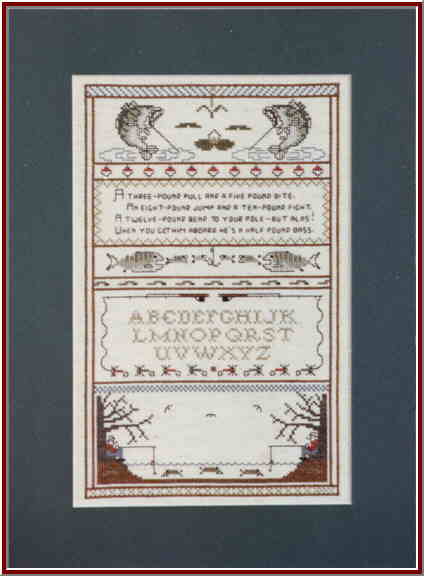 Return to Samplers