Counted Cross Stitch Sampler - Sunflower Sampler
The chart comes from Cross Stitch and County Crafts magazine and appeared in the July/August 1992 issue.
Sunflowers - we love them for their down-home beauty, their cheerful demeanor, their sturdy character, What lovelier symbol of rural American charm?
This trio of sunflowers will hold the mellow warmth of late summer when winter's cold and dark seem unending and unbearable. 'Round about mid-February you may look at the words "Be Ye Thankful" and thank yourself for stitching this enduring bouquet of sunshine.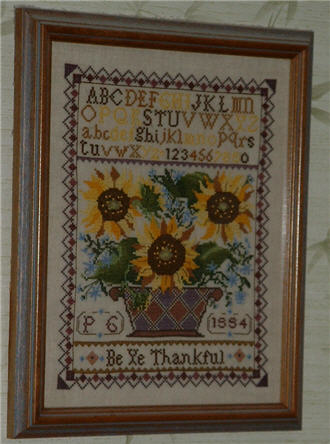 The piece was stitched on linen and framed without a mat as the border of the design serves as the mat. The basket of sunflowers can also be stitched as a pillow.