Autumn at Sinking Creek Counted Cross Stitch
The Autumn at Sinking Creek is by Linda Myers' Art of Cross Stitch and is part of The Designer Collection Series. The finished size double matted and framed: 17 1/2"x21 1/2"
"Autumn at Sinking Creek" was taken from an actual place. The old home place has been abandoned for many years, and stands as a nostalgic monument of days gone by when life was simpler, and the farm was much more a part of American life. It reminds my husband of a place he visited as a child so we call it "Aunt Lucy's Place." This chart was published in 1984.
It can still be found on the Internet.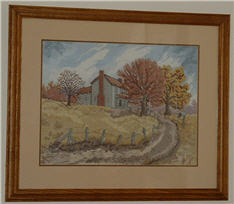 Return to Counted Cross Stitch - Pictures