Counted Cross Stitch - Misc Projects
I like working on large detailed projects. I normally use only DMC floss and if the project calls for lots of 1/4 or 1/2 stitches, I use a 28 or 32 ct fabric over 2 threads.
I seldom buy kits because they are stingy with the fabric. I usually add 4" to each side to allow for matting and stretching. The Eva Rosenstand bird picture was a kit with fabric and the Eva Rosenstand floss. For the Owl and Woodland Life project, I used the Anchor/Bates floss recommended.
After having the first couple of pictures professionally stretched, I quickly decided I had to learn how to do this myself. On a visit to a cross stitch shop in Steven City Virginia, a nice man taught me how to do this. I have been doing it ever since. While I have my mats cut at our local art shop, I buy the majority of my frames from Graphic Dimensions.
It would be impossible to picture all of the projects I have finished over the last 30 some years. Many of these hang in our home.
The Christmas stockings were part of a series that appeared in the Cross Stitch & Country Crafts magazine that is no longer in print. I have all of the issues from the Premier issue in late 1986 to about 1995 when the style of the magazine really changed.
Some of the Linda Myers' The Art of Cross Stitch patterns are based on a series of her watercolor paintings. They are very detailed but exquisite when completed.
This is not an inexpensive hobby by the time you buy the pattern, floss, fabric, then the matt, frame and glass for the projects but I truly enjoy looking around our home and seeing all of the finished projects. The make wonderful gifts.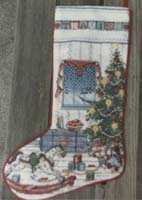 Travis' Christmas Stocking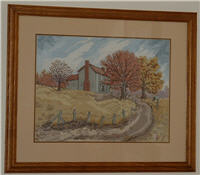 Autumn at Sinking Creek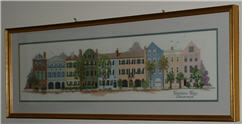 Rainbow Row Charleston SC

A large picture of this project is used as the masthead on
my blog Pat's Cross Stitch Corner.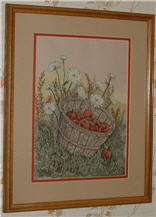 Rubies and Lace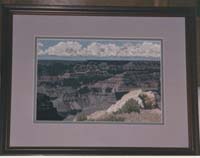 South Rim of Grand Canyon National Park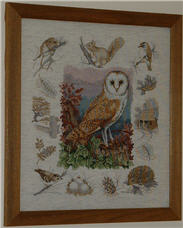 Owl & Woodland Wildlife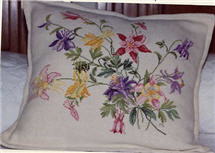 Eva Rosenstand Columbine Pillow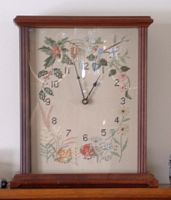 A Time for all Seasons Sudberry Clock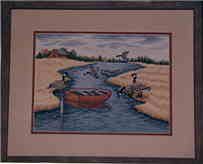 Canadian Geese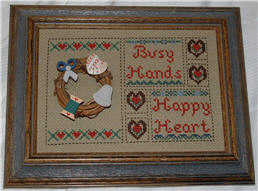 Busy Hands Happy Hearts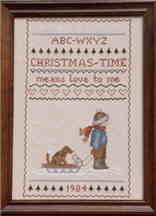 Christmas Time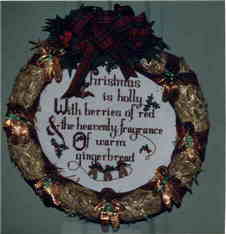 A Wreath to Remember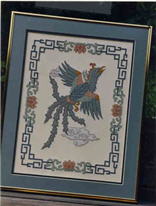 Imperial Phoenix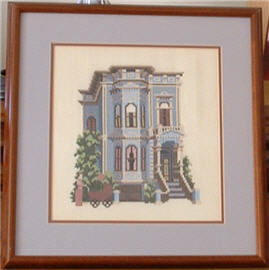 Painted Lady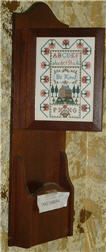 Sudberry Keyholder Mail Cabinet