Blessings Be Thine by Blackbird Designs
Blessings Be Thine is another out of print chart by Blackbird Designs. You can occasionally find it on eBay but it goes for a fairly high price.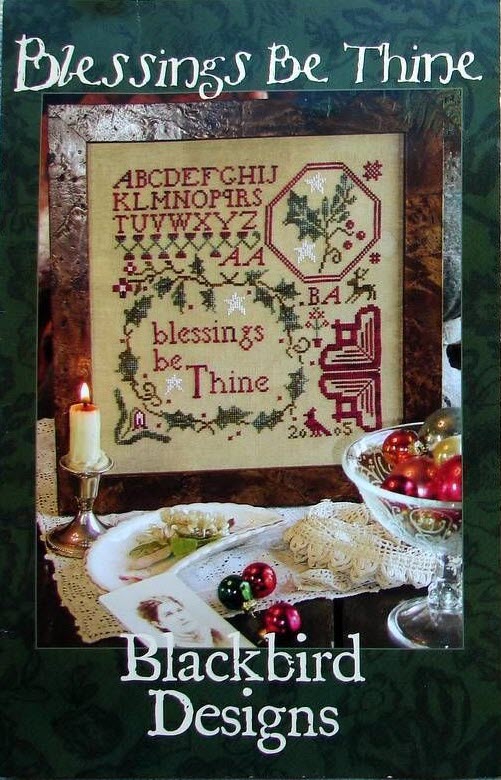 Stitch count for Blessings Be Thine is 123w x123h
Design size on 28ct will be 8¾ x 8¾
cut fabric 17½ x 17½ allows 4" extra on all sides
Design size on 30ct will be 8¼ x 8¼
cut fabric 16½ x 16½ allows 4" extra on all sides
Thread colors needed are:
GAST Cranberry (2 skeins) DMC 902 or 3685
WDW Havanna DMC 869
GAST Dried Thyme DMC 3051 or 937
GAST Oatmeal DMC white or 712 or 3865
No DMC conversions are given but from a conversion chart, I included the DMC colors
Fabric called for is Korty's Special Blend by R&R Reproductions (30ct). Approximate DMC Equivalent: 3046
There are small eyelet stitches scattered throughout the design. One stitcher substituted Mill Hill beads (#02012) She changed the oatmeal floss to a shade of gold. I followed her suggestion and stitched mine the same way.
As an alternate suggestion for finishing this beautiful piece, Leslie Ann Hale stitched it and had it finished as a pillow. STUNNING!!
Pam Brazell is the finisher She used and the shop is 3 Stitches in Spring, TX. 281-320-0133.