Flea Market Souvenir by Blackbird Designs
Flea Market Souvenir is another of the patterns offered by the ladies of Blackbird Designs. It consists of three small motifs that are stitched on three separate pieces of linen then stitched together for the "flea market" look. Or, like me, you may prefer to stitch the three designs on one piece of fabric. Fabric and floss requirements are listed below.
Materials Listing updated March 22, 2016.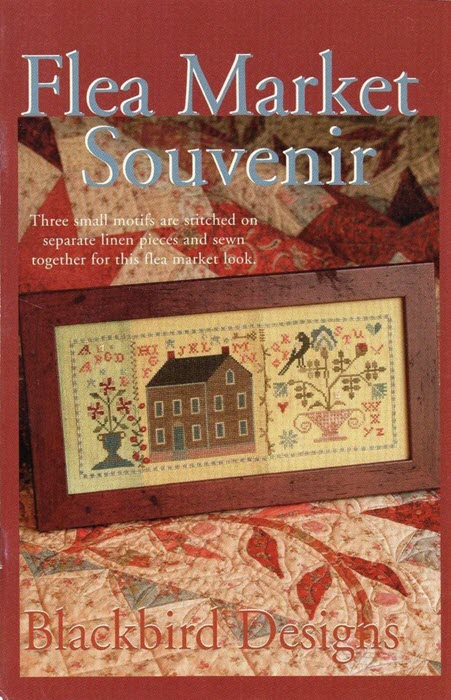 Stitched as three separate pieces then sewn together
Urn and flower: 34w x 74h - 6 1/2 x 9 1/2
Fabric: 30ct LaCrosse Blend by R&R Reproductions
House design: 66w x 74h - 9 x 9 1/2
Fabric: 30ct Kansas City Blend R&R Reproductions
Bird and basket design: 70w x 74h - 9 x 9 1/2
Fabric: 30ct Kansas City Blend R&R Reproductions
Alternate fabric suggestions include: Gardeners Blend and Sheeps Straw
---
Stitched as one single piece
Design Size: 170w x 74h
14/28ct - 12 1/8 x 5 1/4 plus 4" all sides = 20 1/2 x 14
16/32ct - 10 5/8 x 4 5/8 plus 4" all sides = 19 x 13
18/36 - 9 1/2 x 4 1/8 plus 4" all sides = 18 x 12 1/2
Recommended Threads: Gentle Arts Sampler Threads and Weeks Dye Works
GAST Flax (DMC Ecru)
WDW Teal Frost (DMC 807)
GA Pomegranate (DMC 3721)
GAST Mountain Mist (DMC 503)
WDW Putty (DMC 612)
WDW Palomino (DMC 611) 2 skeins
GAST Raspberry Parfait (DMC 3328)
WDW Caper (DMC 935)
GAST Dried Thyme (DMC 3052 & 3051)
GAST Woodrose (DMC 950 & 3064)
Specialty Stitches: Rosette Stitch, Herringbone Stitch, Daisy Chain, Lazy Daisy, and Bullion Stitch