Beneath the Sunlit Sky Color Changes
A picture of Beneath the Sunlit Sky was recently posted on the Fans of Blackbird Designs Facebook page asking about the color changes for stitching this piece. After some sleuthing,, the color changes were discovered and are posted here. Thank you Sanguine Stitcher for sharing your color changes to to Lori Byrd for posting the original photo.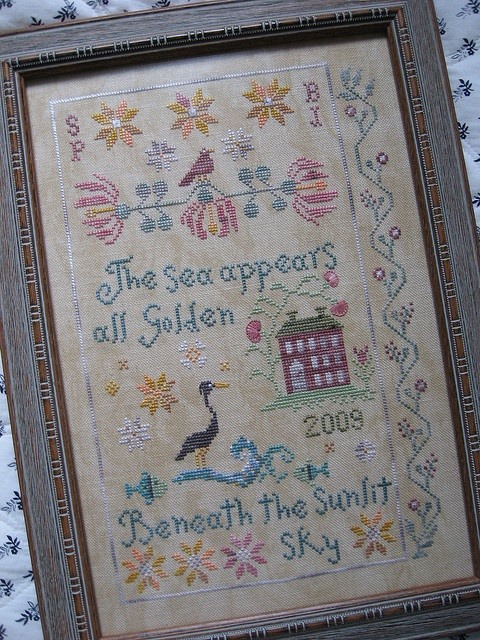 Beneath the Sunlit Sky Stitched by Sanguine Stitcher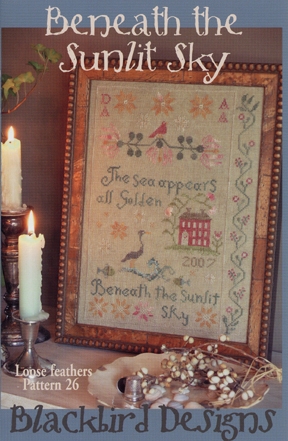 Recommended Colors
Color Changes

GAST Antique Rose
GAST Avocado
GAST Chamomile
GAST Clover
WDW Pelican Gray
GAST Brandy
GAST Tropical Ocean
GAST Parchment
GAST Grape Leaf
GAST Bayberry
GAST Mountain Mist

CT Dusty Mauve
GAST Evergreen
CT Olives
CT Dusty Rose
CT Soot
CT Desert Sand
CT Blueberry
CT DMC 928
CT Sage Grass
WDW Ocean
CT Sea Kelp
CT = Carrie's Threads and GAST - Gentle Arts Sampler Threads and WDW- Weeks Dye Works
NOTE: The original substitute for Parchment was a light heather gray which is no longer available. I am either going with a light grey or DMC 928. Will keep everyone updated as we work on selecting that color.
Design Size: 116w x 171h
Recommended Fabric: 28 or 30ct Sea Fog by R & R Reproductions
14/28ct - 8 1/4 x 12 1/4 plus 4" all sides = 17 x 20 1/2
16/32ct - 7 1/4 x 10 3/4 plus 4" all sides = 16 x 19
Specialty Stitches: Buttonhole Stitch