Garden of Life by Blackbird Designs
Garden of Life is #21 in the Loose Feathers series by the Blackbird Design ladies. It was published in 2006 and is Retired and Out of Print. The verse reads "Friends The flowers in the garden of life."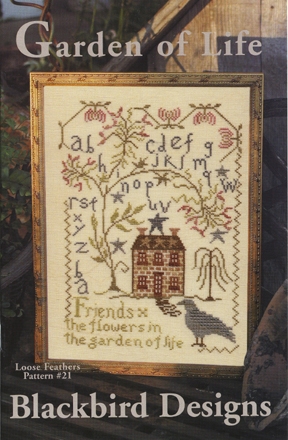 Design Size: 111W X 167H
Recommended Fabric: 28 or 30ct Alabaster by R & R Reproduction
14/28ct - 7 7/8 x 11 7/8 plus 4 inches on all sides =15 7/8 x 19 7/8
16/32ct- 7 x 10 1/2 plus 4 inches on all sides = 15 x 18 1/2
18/36ct - 6 1/8 x 9 1/4 plus 4 inches on all sides = 14 1/8 x 17 1/4
Recommended Floss: Gentle Arts (GA) and Weeks Dye Works (WDW)
WDW Fawn (DMC Ecru)
WDW Dolphin (DMC 414)
GA Aged Pewter (DMC 169)
GA Grasshopper (DMC 3013)
GA Sarsaparilla (DMC 300)
WDW Cocoa (DMC 3790)
GA Chamomile 10 yards (DMC 3011)
GA Antique Rose (DMC 223)
GA Cidermill Brown (DMC 841)
GA Woodrose (DMC 407)
Specialty Stitches: French Knot, Smyrna Cross
I chose to stitch this piece using threads from the Victorian Motto Sampler Shoppe Primitive Floss Collection:
Mocha Cream
Weathered Teal
Primitive Grey
Dahlia Leaves
Ginger Bark
Mixed Barnwood
Primitive Green
Old Red Roses
Pink Roses
Mocha Tan
For the stars on the house roof, I used Mocha Cream.
I stitched the house bricks using only two colors Mocha Cream and Mocha Tan with the trim in Ginger Bark.