Moon Garden by Blackbird Designs
Moon Garden is another chart in the Loose Feathers series #8 and is out of print. Jim Waldecki has kindly made this chart available to borrow.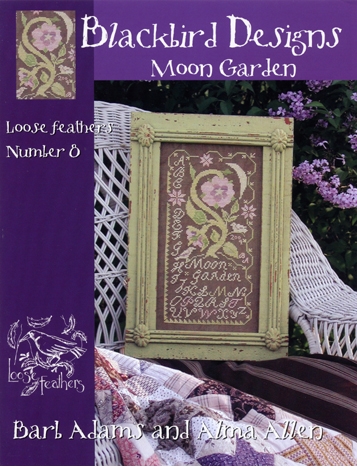 Stitch Count: 77 x 154
Recommended Fabric: 28ct 18th Century Rook by R & R Reproductions
Design Size:
14/28ct 5 1/2 x 11 plus 4" all sides =14 x 19 1/2
16/32ct 4 7/8 x 9 5/8 plus 4: all sides = 13 1/2 x 18
Recommended Threads: Gentle Arts Sampler Threads (No DMC equivalents given)
GAST Willow (10 yd skein)
GAST Highland Heather
GAST Avocado
GAST Buttermilk
GAST Cameo Pink
And for a completely different look, see what Jane Douglas did with her color changes!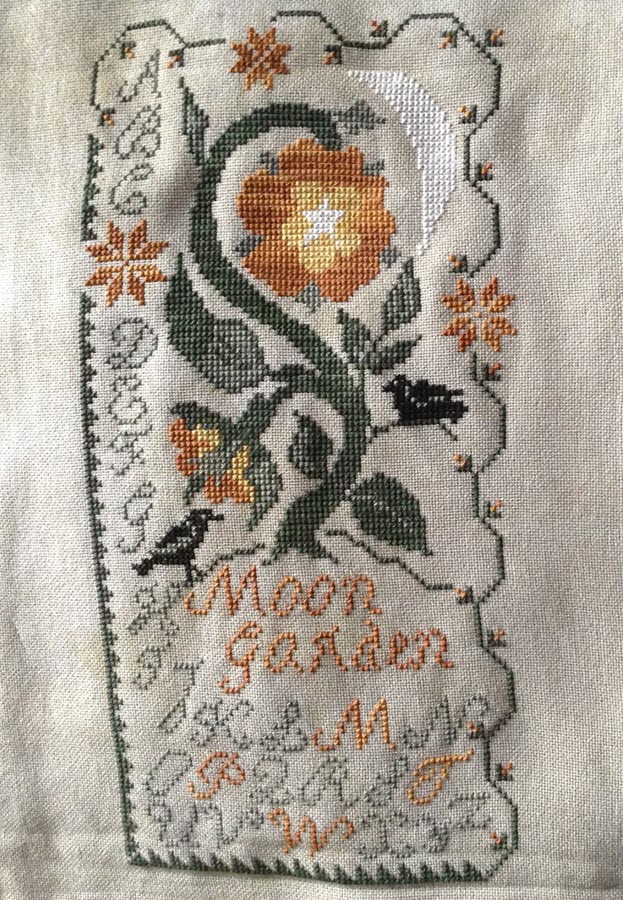 Victorian Motto Sampler Shoppe - Black Watch Plaid (DMC 500)
Victorian Motto Sampler Shoppe Iris Leaves - no conversion but a sage or a silver green color
Classic Color Works-Colonial Copper
Cresent Colors-Honey Comb
DMC Blanc
Simply Shaker - Black Licorice or any Black
Fabric used was was PTP Wren.