Patchwork Pinkeep by Blackbird Designs
Patchwork Pinkeep was the first release for the A Little Help From Our Friends Stitching Circle by the Silver Needle in early 2015. It is now OOP and the last time I saw it on eBay, the price was $75.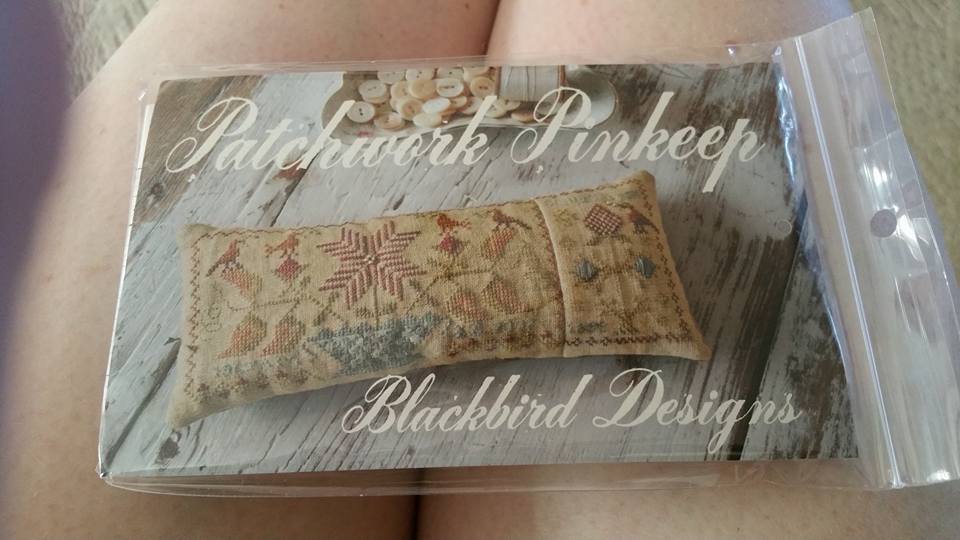 Main Portion (pictured on left)
Stitch Count: 101w x 54h
Recommended Fabric: 32ct Straw linen by Weeks Dye Works
Right Side Design (pictured on right)
Stitch Count: 36w x 54h
Recommended Fabric: 32ct Parchment linen by Weeks Dye Works
Recommended Floss for both pieces: Gentle Arts Sampler Threads
Burlap
Chamomile
Cinnamon
Country Redwood
Flax
Lexington Green
Mountain Mist
Terra Cotta
Tin Bucket
Specialty Stitches: Lazy Daisy, Smyrna Cross, and Satin Stitch - Names and Dates are stitched over one
Additional Supplies: 11/0 Seed Bead Metalic Silver (Bead Treasures CZ107)
You might also choose to stitch this piece as I did on one single piece of fabric - 28ct Cream Monaco with the recommended floss. It was stitched in honor of my husband's maternal grandparents and has their birthdate (1848), their names, and the date they were married.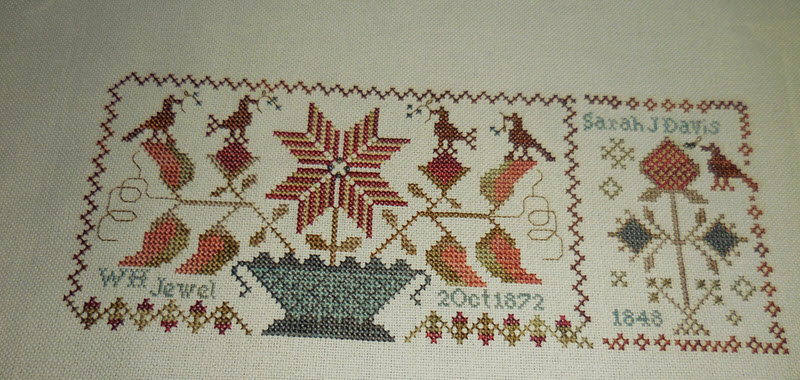 Stitch Count: 137 x 54 if stitched on one piece of fabric