Strawberry Garden by Blackbird Designs
Strawberry Garden (Loose Feathers #18) is another of the OOP charts by Blackbird Designs. One of the gals on the Fans of Blackbird Designs Facebook page is willing to lend her copy to members of the group.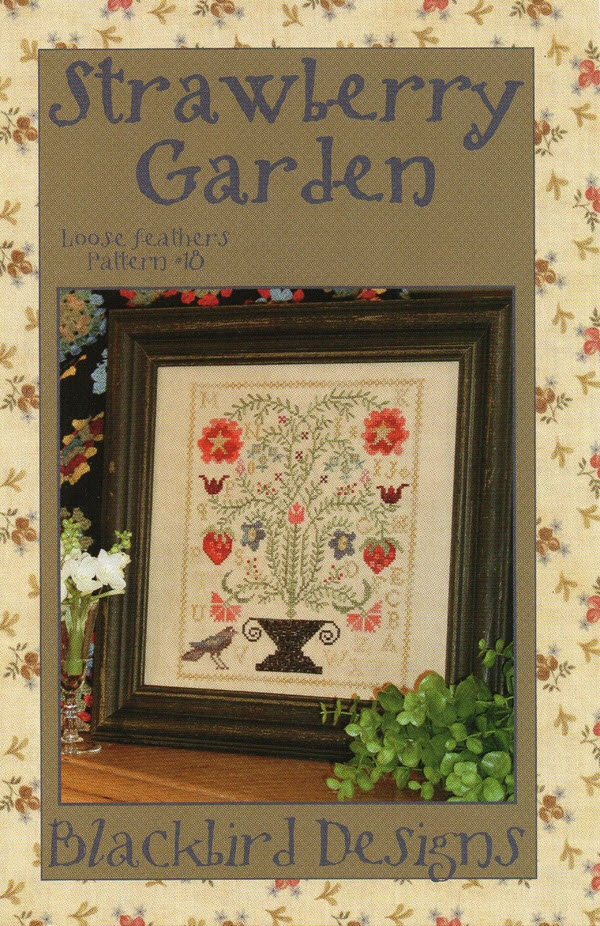 Design Size: 107wx126h
Recommended Fabric: 28ct Creme Brûlée by R and R Reproductions.
14/28ct - 7 5/8 x 9 plus 4 inches all sides = 15 5/8 x 17 inches
16/32ct - 6¾ x 7 7/8 plus 4 inches all sides = 14 3/4 x115 7/8 inches
18/36ct - 6 x 7 plus 4 inches all sides = 14 x15
Recommended Floss: Gentle Arts (GA) Weeks Dye Works (WDW)
GAST dried thyme (2)

WDW mascara

CC tartan plaid

CC fools gold (2)

CC crab cakes

CC ruby slippers

CC bing cherry

CC shamrock

CC boysenberry jam

C

C Wisconsin woods
Specialty Stitches: Lazy Daisy, Eyelet, Smyrna cross, buttonhole, and satin stitch.